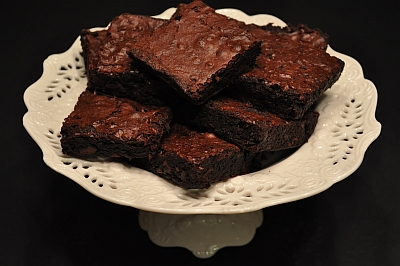 Box Brownies are one of those dishes you can whip up in just moments and take to the office or a potluck party…or at least they were before you gave up gluten. So I wanted to see how the gluten free brownie mix from Betty Crocker stacked up. The directions are clear, easy, with only 2 additional ingredients (1/2 stick of butter and 2 eggs).
After baking according to the directions, the back of the box recommended cutting the brownies with a plastic knife…perfection! I will now be using this technique with all my bar cookies.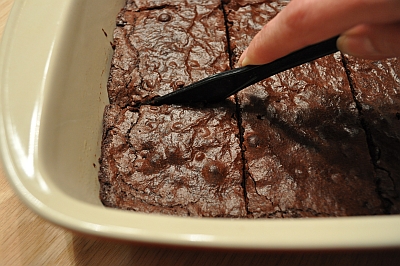 Now to taste…very deep, dark, chocolate taste. The mix has chocolate bits running through the entire batch. I love chocolate, I do! However these might be a little darker than I prefer my brownies to be. I typically prefer milk chocolate to bittersweet or really dark chocolate. If you are a deep dark chocolate lover…you may have found the perfect mix. Great texture right out of the pan and also after storage in the fridge. In fact I am a lover of chilled brownies straight out of the fridge (strange, I know). You may want to warm them briefly in the microwave and serve with a scoop of ice cream and chocolate sauce.
I am still in love with the idea of this affordable convenient brownie mix…so I shall have to get to work on a version that mutes the intensity of the chocolate slightly. Any brilliant ideas on doing that?