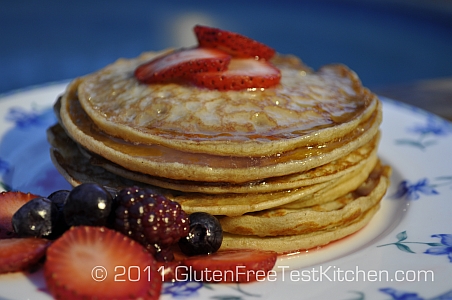 Tweaking recipes is a compulsion of mine. However, perfected favorites usually get a pass unless I am short of ingredients. This happened on a recent weekend when I woke up craving pancakes.  Looked in the fridge, only two eggs! My original recipe calls for four.
Determined, I decided to substitute ground flax seed and water for the missing eggs — flax is a useful substitute to know about if you cannot eat eggs. What a revelation! I expected passable pancakes. I got marvelous, velvety pancakes, even better tasting than before.
A few years ago, I had trouble finding any version of cottage cheese pancakes on the web. But, recently, I saw a wheat flour version demonstrated on Nigella Feasts. Nigella Lawson calls her recipe cheesecakelets . (Wish I'd thought of that name first!). Her recipe is quite different from mine, but her sentiment and affection for it are mirrored by my family.
I hope these pancakes are a revelation and a new favorite for your family too!
Update: I have now attempted this recipe without any eggs at all and am happy to report that it works! You will want to make the batter slightly thinner and make certain to cook each side of the pancake well before turning. Hopefully this is good news for those of you who are allergic/sensitive to eggs in addition to gluten.
Cottage Cheese Pancakes
1 cup / 220 g  low-fat cottage cheese
2 eggs (see update above to omit eggs) 3 Tbsp / 21 g  ground flax seed 1/2 cup / 120 ml  water
2 Tbsp / 21 g  sugar
1/2 tsp salt
1 tsp vanilla
1 cup / 160 g / 5.6 oz  gluten free oat flour (for other flour substitutes start with ½ cup) 1/4 cup/ 60 ml vegetable oil (optional)
1/2 cup / 120 ml  milk or milk substitute (approximate – may be less or more)
vegetable oil or spray
Preheat griddle or skillet on medium heat for cooking pancakes. Brush or spray the surface with oil.
Add all ingredients to blender or food processor. Blend until smooth and creamy. (If too thick, add additional milk and blend.) You want the finished product to have the texture of cultured buttermilk or…house paint…definitely thinner than traditional pancake batter.
Pour batter into individual pancakes (smaller cakes 4 inches/10 cm  across are easier to manage and turn). Allow to cook until bubbles form and break. Turn with a spatula and cook for an additional minute to complete cooking on the other side.