When I first made these (and since) for my husband  he sniffed the rolls and tipped his head back in ecstasy. He does know how to encourage me to make them frequently! They do smell amazingly like wheat rolls. He likes to spread butter on them hot from the oven or dip them in melted butter for a better than lobster experience (perhaps only for those who have gone without dinner rolls for some time : )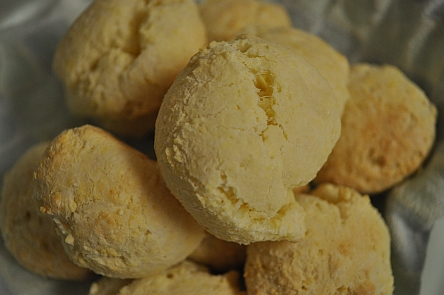 For our family, the Brazilian cheese bread known in Portuguese as Pao de Queijo (pawn' juh kay' joo) are the best gluten-free dinner rolls we have tasted. Bonus: you don't have to wait for bread dough to proof or rise. This recipe has no leavening agents at all. Pao de queijo are best served straight out of the oven while they are still hot and almost gooey inside. They are addictive–consider yourself warned.
I add soluble fiber to the recipe which is not detectable, but it helps me to believe I have made them more healthful. I am also not opposed to the various mixes out there that make the process of getting these to the table even simpler than the short recipe below. There are days when from-scratch is simply not workable in our schedule or I lack one of the ingredients.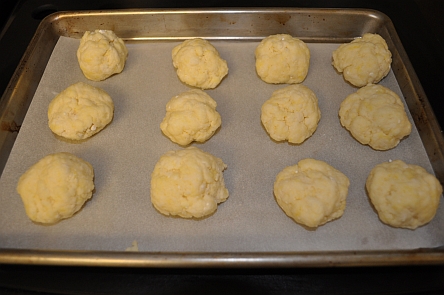 Pao de Queijo
  Ingredients:   2 cups  tapioca starch / cassava flour (Povilho Azedo)/yucca 1/3 cup fiber (e.g. Benefiber) 1 teaspoon salt 1/2 cup grated cheddar cheese and 1/8 cup Parmesan cheese 1/4 cup of vegetable oil or butter 2 large eggs 1/2 cups of milk   Preparation:
Sift flour into bowl. Mix in salt and cheese. Mix in Oil thoroughly.
Add eggs and mix well.
Simmer milk on the stove or in the microwave (My microwave takes a minute or less). Pour warm milk a little at a time into the bowl with the cheese and flour mix, you may not need all of the milk. The dough needs to be thick enough to roll into balls.
Let dough sit for ½ hour. (if possible)
Preheat oven to 350 degrees.
Shape the dough by hand into 1-inch little balls. Place on a well greased baking sheet (or a baking sheet lined with parchment paper).
Bake 17-22 minutes until lightly golden and crackled on the outside.
 Tips:
Let dough rest after mixing by hand.
After forming into balls you can freeze the dough on a cookie sheet. Then place the frozen dough balls into a freezer bag.
Place balls at least 1 inch apart on baking sheet. They will grow to twice their original size.
Leftovers…if there are any… can be sealed in a baggie and stored in the refrigerator for up to one week. Reheat in microwave for a few seconds.