Pizza! This recipe is about as fast as delivery when you consider the time that it takes to call and deliver the pie to your home. This is definitely less expensive and there is a convenience factor based on the ingredients that I will disclose below. I make my own homemade tomato sauce from time to time and I make an enormous amount and store it in the freezer. In case you do not have a passion for chopping and simmering your way through a batch of your own, I recommend that you purchase good canned Pizza sauce and go from there.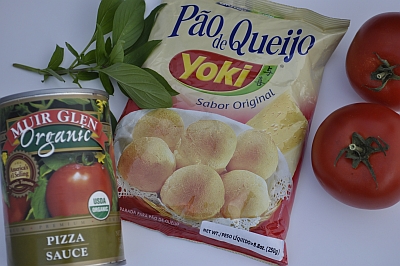 The real time saver is using Brazilian cheese roll dough as the crust. It tastes like pizza crust should. Using a pao de queijo mix could not be easier to mix up and pat in the pan. This crust must be baked first, before adding additional pizza toppings or you end up with a soggy soupy mess. Trust me, I did the testing so you don't have to. Remember to dock the dough with a fork (pricking small holes all over the bottom of the crust so that the dough does not bubble.)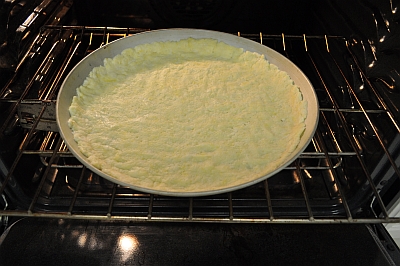 After blind baking the crust, remove from the oven and add the ingredients of your choice. I recommend that you start with your sauce, add cheese and then your meat and vegetable toppings. I add a little additional cheese on top just for looks and crispy cheese. The cheese underneath stays moist and stringy, Mmmm!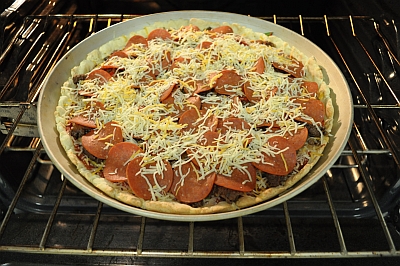 Gluten Free Pizza with Cheesy Crust
1 pkg.
pao de queijo mix
(Brazilian cheese bread) (eggs and milk or other ingredients needed to make mix) Pizza sauce (homemade or
purchased
) Cheese Optional Toppings: mushrooms, green peppers, onions, pepperoni, sausage, etc. Note: I prefer to precook my veggies briefly in a skillet while the crust bakes.    
Preheat oven to 375°. Make mix according to instructions on the package. Pat or press in pizza pan or cookie sheet. Use a fork to dock (prick dough) the dough all over the bottom of the pan. Bake for 13-15 minutes (crust should be golden around edges and slightly puffed.
Remove  crust from oven and add sauce, cheese, and additional ingredients of your choice. Bake for an additional 10-15 minutes. Pizza should be bubbling around the edges.
Allow to cool for 5 minutes, cut and enjoy. If there are leftovers I place them in a zip top bag in the fridge to enjoy the next day.