Pumpkin Bread reminds me of my mother, which is strange considering that she was not known for making pumpkin bread. When she passed away (at far too young an age), my boss at the time kindly suggested that I include a recipe in our company newsletter for the holidays and that I include some reference to my mother as a kind of small memorial. It was very thoughtful and made me feel as though my feelings were honored as much as my work product/contributions. The recipe I formulated was for Pumpkin bread.
Mom was known for making bread. Big batches of whole grain wheat that she ground herself from hard winter wheat that she purchased in 50 pound bags stored in the deep freeze. Mom was devoted to making wholesome, whole grain bread for our family, friends and neighbors. In fact to this day when I run into friends from those years growing up, they will often comment on how they miss the occasional gift of bread.
Mom had perfected her recipe through trial and error. It was evenly textured, nutty tasting, barely sweet, and as light as one could hope for in whole wheat bread. She allowed it to rise at least twice on Fridays while she cleaned the house in a marathon of effort. I vividly remember the enveloping scent of freshly baked bread and a clean house upon walking in the door after school. Her other hallmark was the fact that she baked her 6-7 loaf batch in greased coffee cans. This often embarrassed us kids when we took sandwiches to school because ours were oddly round shaped.
This recipe for pumpkin bread is a labor of love and Mom would be proud. It is somewhere in between cake and bread because it is sweet enough to pass for dessert and hearty enough to use as a breakfast or snack bread.  This bakes up very moist and with a lovely crumb. I challenge anyone to guess its gluten free origins. I prefer to avoid cinnamon and substitute allspice, but I have written the recipe with the traditional cinnamon included, my substitutions are noted in parentheses below. Please feel free to top with your favorite glaze if you wish to take this in a dessert direction. I also love this sliced warm and dressed with butter.
Enjoy!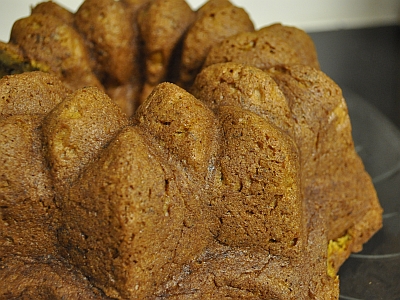 Mom's Gluten Free Pumpkin Bread/Cake  Recipe
2 eggs 3/4 cup / 180 ml cooking oil 1 1/4 cups / 250 ml sugar 1 teaspoon pure vanilla extract 1 can (15 ounces  / 444 g) plain pumpkin puree 2 tablespoons plain yogurt / milk / or milk substitute 1 tablespoon lemon juice   1 cup / 300 g / 10.5 ounces
Better Batter GF Flour
or other rice-blend flour 1/2 cup / 80 g / 3 ounces
oat flour
1/2 cup / 50g / 1 ¾ ounces
ground flax seed
¾ teaspoon salt 1 teaspoon baking powder 1 teaspoon baking soda 1 tsp xanthan gum or guar gum (unless flour combo already contains) ½ teaspoon cinnamon (or substitute allspice) ¼ teaspoon nutmeg 1/8 teaspoon cloves (omit when substituting allspice for cinnamon) ¼ teaspoon ginger ½ cup / 50 g nuts / 1 ¾ ounces pecans or walnuts, finely chopped
Preheat oven to 350°F/180°C and grease and flour (or line with parchment paper) two 9×5 bread pans. Or you may use one bunt pan for the entire recipe.
In a large bowl whisk eggs together. Add oil and whisk vigorously to emulsify. Add sugar and mix again. Then add vanilla, yogurt, pumpkin puree, lemon juice and whisk together.
In a separate bowl measure flours, flax, salt, baking powder, baking soda, Xanthan Gum, spices, and nuts. Blend dry ingredients together. Add dry ingredients to the liquid mix gradually and whisk until blended.
Divide batter evenly into 2 bread pans or place all the batter in one bunt pan.
Bake one hour at 350°F/180°C. Turn pans half way through cooking time. Bake until center of loaf reads 195°F/90°C on instant read thermometer or when a toothpick tests clean with slightly moist crumbs.