Exciting news! I enjoyed giving away a prize package so much in December that I have decided to do it again! Comment on this post and answer the question "What gluten free recipe or product do you crave that you have not yet found?" to be entered to win a prize package of gluten free products provided by General Mills through MyBlogSpark. The package includes an assortment of gluten-free products from your favorite brands like Betty Crocker, Bisquick, Chex and Larabar, a Betty Crocker Red Serving Spoon, recipes, and coupons! I will draw randomly from those who comment…contest period ends February 18, 2011. I will announce the winner at the bottom of this blog entry.
Update: Andrea is our lucky winner! Please contact me so that I can ship your winnings! (Winner selected using random.org)
As many of you may have discovered, Gluten Free Chocolate Chip Cookie Mix is now available from Betty Crocker at your local grocery store. As an added bonus you can print coupons on the Betty Crocker website for great gluten free mixes.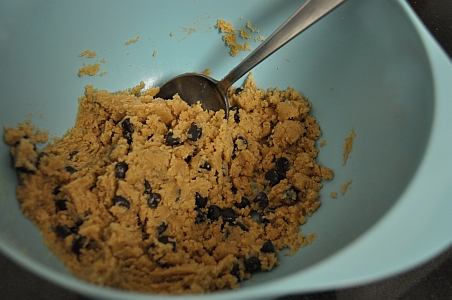 I made these cookies according to the package directions and found them to be chewy (even days later) with plenty of chocolate chips. However, I did find that there was a slightly gritty mouthfeel. I made my next batch according to the directions, but with the addition of 1/2 cup of almond butter. This seemed to eliminate the gritty mouthfeel. Other nut butters could be substituted as well. I would love to know if you have tinkered with enhancing this cookie mix (or other GF cookie mix).