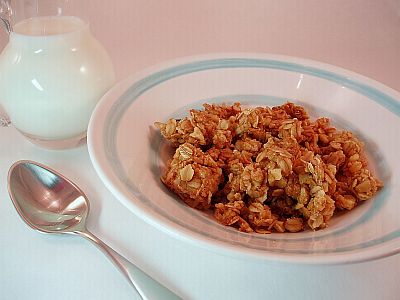 I wrote two introductions for this post: The first was, "I named this recipe Tortola Granola because I liked the way it rhymed." The second was J. Peterman-esque:
Pure white sails luffed in the wind as I looked up into the bluest sky you have ever seen one perfect spring morning. The sound of the tall ship weighing anchor in Road Town harbour at Tortola in the British Virgin Islands woke me. I had slept under the stars on a deck mat that night. Rocked by waves and gentle breezes, it was the best night's sleep I had had in years. I could smell breakfast being prepared, rich in the spices of the tropics. I could understand how those spices stirred explorers of centuries past to leave family, home, and safety, climb aboard similar vessels, and set sail for treacherous waters…often never to return.
I was hungry. Breakfast was delicious. On an intimate schooner in the Carribean with a Master Bahamian Chef in the galley, how could it not be sumptuous?
This recipe satisfies my craving for an affordable, nutty, and buttery granola flavored with the world's favorite tropical spice: vanilla. Formerly, I was purchasing a fairly expensive granola to satisfy my yearning for this morning treat. I continued to experiment in the test kitchen with extracts and ingredients until I found the combination that tastes like morning on my own private island.
This version is both crunchy and chewy. I have never found a commercial or homemade granola that is chewy AND crunchy, so I am pleased to unveil this one! As an added bonus, this version contains plenty of tasty fiber.
No problem mon, this is no more effort than baking a batch of cookies. Let me know how yours turns out.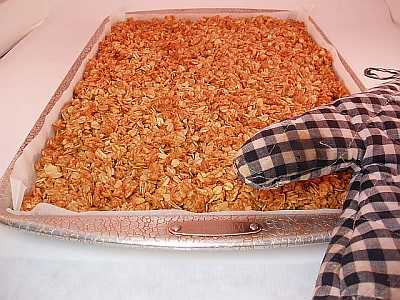 Tortola Granola
or Paradise Lost Granola Recipe
  6 cups oats (gluten-free)
6 Tbsp ground flax (optional)
1 cup chopped walnuts or sliced almonds
1/3 cup golden brown sugar
1/4 tsp salt
1 tsp butter extract
1/2 tsp coconut extract
2 Tbsp vanilla extract
1 tsp almond extract (optional)
1/3 cup vegetable oil
1/3 cup honey
1/3 cup sugar
Position rack in middle of oven and preheat to 300°F. Spray a large baking sheet (or two smaller ones) with nonstick spray or place parchment paper in the bottom.
Mix oats, flax, and nuts in a large bowl. In a smaller bowl combine the extracts with the brown sugar. Pour into the large bowl with first 3 ingredients and stir together thoroughly.
Combine oil, honey, and white sugar in a small saucepan. Bring just to a boil over medium heat. Immediately pour hot liquid over the mixture in the large bowl and stir well. Toss mixture until it is thoroughly coated.
Spread granola on prepared baking sheet(s). Bake until golden brown, about 15-17 minutes. Rotate pan half way through baking for even color. Transfer sheet to rack and cool completely before breaking granola apart and storing in airtight container.