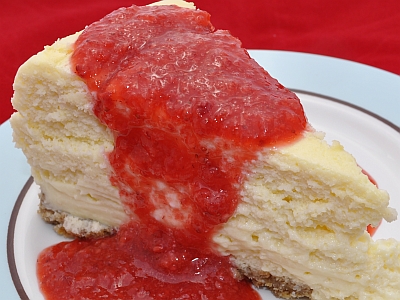 I was blessed with the wedding of my dreams. One way I got it was to bake my own wedding cakes, 30 to be precise, of these elegant and delicious gluten free cheescakes. To make a perfect cake, you will need a deep 9-inch, glass bottomed springform pan like this one. It is neither the cheapest nor most expensive pan, but it comes highly rated and fully tested in the GF Test Kitchen. This cake makes a lovely and impressive gift, and if you follow the instructions–it works every time.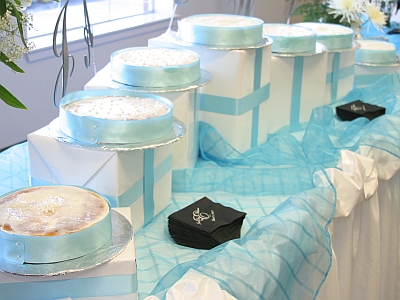 With the average wedding in the USA running about $25,000, I was determined to have a beautiful wedding at a reasonable cost. I wanted to have it in a beautiful church, on a beautiful day, with 250 of our closest friends.
I had heard about and now experienced the phenomenon of The Wedding Tax. At the mention the word "wedding," most (not all, but most) merchants' eyes seem to glaze over while gentle smiles float over their faces, and the price of everything skyrockets beyond all reason!
For example, the quotes my husband got for a limousine ride from the church to a local hotel were over $1,000! So, we both went to work. It became our mission to beat the system. And, God chose to smile on us.
We discovered that a friend at church owned a limo service. As a wedding gift, he gave us an incredible deal. With a little shoe leather, I found the perfect dress at a reasonable price. 
It had rained all month, but on the morning of our wedding day, the clouds parted. It was a spectacular day.
Early on the previous morning, my groom went flower shopping at several "wholesale club" stores. After emptying her stock of cream flowers, a florist gave him the phone number of a local flower supplier, who he called immediately on his cell. The dealer said he was standing in the wholesale flower market and just happened to be looking at 200 of the largest, most beautiful creme-colored roses he had ever seen. The price was so low, my husband ordered them all, and they were delivered to the church before he arrived with several hundred more flowers. My lovely girlfriends decorated the church and reception hall with flowers.  
As I mentioned above, I cut costs by baking 30 GF cheesecakes using the recipe I developed below. It freezes very well. So, a few months earlier, we bought a freezer to store them in using a fraction of the money we would have spent on a professional wedding cake. I still adore the extra storage space a deep freeze offers.
We hired a fabulous choir from a sister church. Their beautiful voices made the wedding even more memorable. Another dear friend, an events planner, was our excellent wedding coordinator.
Even now, years later, friends still occasionally tell me about the wonderful time they had at my wedding, which makes me feel so good.
If you are a lover of rich, dense, and creamy New York Style cheesecake (I am too), then think of this as a different dessert. It's still rich and creamy, but it's as light as the fluffy white clouds that adorned the deep blue sky on my perfect day.
I hope this helps to make a day perfect for you.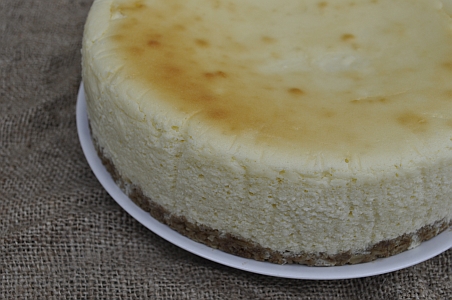 Dreamy Wedding Amaretto Cheesecake Recipe (Light and Airy)
Serves 12 – 16 Note: I usually use sweet and mild American Neufchâtel style cream cheese (sometimes called Farmer's Cheese in the US). It has 1/3 less fat than American cream cheese. I would not, however, recommend using a fat-free cream cheese in this recipe. Also, do not confuse American Neufchâtel with the original mould-ripened French Neufchâtel cheese, which is sharp, savory, and delicious…unless you are very, very adventurous!   1 cup gluten free crumbs/crushed
granola
, or
crumble pie crust
. 4 Tablespoons butter 2 pounds / 900 g  cream cheese, room temperature
(Four 8-oz packages) 1 ½ cups / 300 g   granulated sugar
5 large eggs
 , separated
1 teaspoon vanilla extract
1 teaspoon almond extract 1 Tablespoon Amaretto liqueur 1/4 cup /  60 ml  heavy cream
Adjust oven rack to middle position and heat oven to 325° F (160° C).
Brush bottom and sides of a 9-inch springform pan at least 2.25 inches (6 cm) deep with butter or cooking spray or line with parchment paper.
Wrap the entire outside of the pan with two unbroken sheets of heavy-duty aluminum foil.
Mix crumbs and butter and press crumbs evenly over the bottom of the springform.
Place pan in large roasting pan.
Bring kettle of water to boil for water bath.
Meanwhile, beat cream cheese in a large bowl with electric mixer until smooth.
Gradually add sugar and beat on medium speed until sugar dissolves, about 3 minutes.
Saving the egg whites, add egg yolks, one at a time, beating until just incorporated. Scraping down the bowl after each addition will prevent lumps.
Add almond extract, Amaretto, and vanilla extract. Beat until just incorporated.
Gently mix in cream.  
Beat egg whites to soft peaks, and gently fold 1/3 of the whites at a time into the cream cheese mixture until all are incorporated.
Pour mixture into prepared pan.
Set roasting pan on oven rack and pour enough boiling water to reach about halfway up side of springform pan.
Bake until perimeter of cake is set, but center jiggles slightly when pan is tapped, 50 to 60 minutes (150º F /65º C on an instant read thermometer.)
Turn off heat and leave oven door ajar for 1 hour or longer to cool the cake slowly.
Remove springform pan from water bath and cool to room temperature.
Cover and refrigerate until chilled, (at least 4 hours – or up to 4 days.) Or freeze it (up to 1 month)

 .