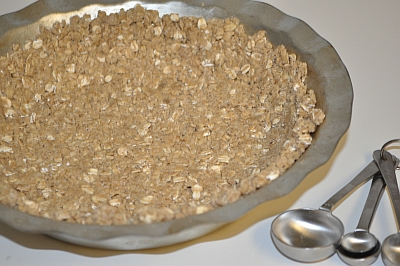 Tip: Even the crumbs of expensive gluten free products and recipes are worth saving. I keep zip bags (one for sweet crumbs, chocolate crumbs and bread type crumbs) in the freezer. When we have bakery type leftovers that won't be eaten before they stale, I add them to my zip bags. Once a month or so use a food procesor and grind up the bits and pieces for recipes like the one below or for crumble toppings, dredging meats/savory items, or topping casseroles.
I make several batches at a time (minus the butter of course) and store them in quart size freezer bags. This means that a pie crust is never more than a few seconds of melted butter away.
Gluten Free Crumble Pie Crust Recipe
1 cup gluten free granola (ground in food processor) 1/2 cup rolled oats (gluten free) 1/2 cup gluten free oat flour or crushed rice crispies 2 Tbsp brown sugar 4 Tbsp butter or margarine (for vegan version)
Mix all dry ingredients together thoroughly. For long term storage place in zip top bags and place in freezer. For immediate use add melted butter, mix well, and press into pie pan.