Exciting news! Comment on this post and answer the question "What food product would you like to see available gluten-free?" to be entered to win a prize package of gluten free products provided by General Mills through MyBlogSpark. The package includes an assortment of gluten-free products from your favorite brands like Betty Crocker, Bisquick, Chex and Larabar, a Betty Crocker Red Serving Spoon, recipes, and coupons! I will draw randomly from those who comment…contest period ends December 3, 2010. I will announce the winner here.
As many of you may have discovered, Gluten Free Bisquick Mix is now available from Betty Crocker at your local grocery store. Yes! As an added bonus on the Betty Crocker website you can print off coupons for discounts on those great gluten free mixes.
In honor of the holidays I am sharing my own version of the gluten free Bisquick pie crust recipe found on the Betty Crocker website.  The Betty Crocker website recipe calls for (1 cup Bisquick® Gluten Free mix, 5 tablespoons cold butter, and 3 tablespoons water). My favorite crust recipes contain cream cheese and a touch of vinegar…trust me it helps enormously with texture and taste.
See below for my tested recipe version. I am very pleased with the taste, tenderness, and convenience of this recipe. Of course to make it even more convenient you could make multiple batches and freeze the dough. This pie crust will make enjoying your favorite pies and desserts possible for everyone.
Gluten Free Bisquick Cream Cheese Pie Crust
1 cup Bisquick® Gluten Free mix 5 tablespoons cold butter, cut in 1/2″ cubes 3 tablespoons cream cheese 1 tablespoon white vinegar 3 tablespoons water
Preheat oven 400°F. Grease pie plate with spray or butter.
Use food processor, pastry cutter, or fork (or pull 2 table knives through mixture in opposite directions) to work the butter and cream cheese into the Bisquick mix until the texture resemble course crumbs. Add the vinegar and water and stir until dough comes together. Shape with hands and press into pie pan.
Press dough in bottom and up sides of pie plate. Protect crust with pie shield or strips of aluminum foil. Bake 10 to 12 minutes or until lightly browned at edges. Cool completely, about 30 minutes.
Fill with your favorite pie filling and chill or bake according to the directions.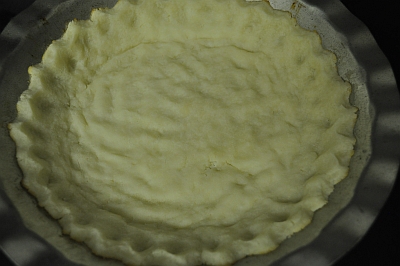 December 4, 2010: Our gluten-free prize package winner is Tina! 
Winners are selected by listing entrants in the order they are received and by using a random number generator. Every qualified entrant has an equal chance of winning.
I love winning prizes, and I can tell you that it is even more fun to award them! Stay tuned for future contests.