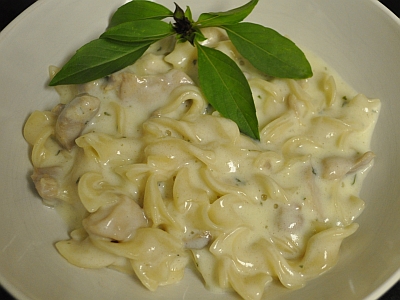 Hot, comforting, all in one pot meals are wonderful for a chilly winter night. Especially if you are longing to get something on the table quickly and effortlessly. If your one pot meal comes out of a box and adds in features of convenience and taste, then you are really starting to talk about a pantry standby.
Mrs. Leepers Gluten Free Chicken Alfredo Mix is actually quite good even just following the directions on the back of the box. It requires the addition of chicken (or turkey etc.), water, and milk.
It is taken to yet another level of deliciousness and nutrition with the addition of baby bella mushrooms and spinach, and garnished with Parmigiano Reggiano cheese and a light grind of fresh pepper. I sauteed the mushrooms with the meat, and added the spinach with the other ingredients. You could certainly add other vegetables and cheeses based on the contents of your refrigerator and pantry.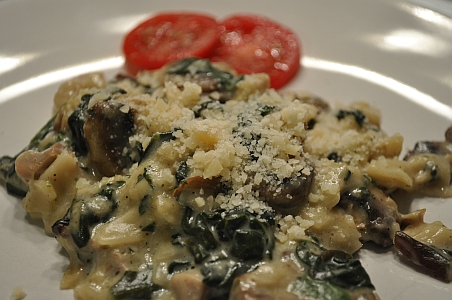 We have also tested the Mrs Leepers Creamy Tuna version, which is quite good as well. Add 2 cans of tuna instead of one.
I cannot recommend the Beef Stroganoff version unless you prefer a VERY mild stroganoff more reminiscent of alfredo sauce. I had to add worcestershire powder, soy sauce, pepper, rice vinegar and a touch of salt (not to mention mushrooms and sour cream) before it began to be reminiscent of a stroganoff. I would have found it easier to start from scratch. But, two out of the three is not too bad at all.