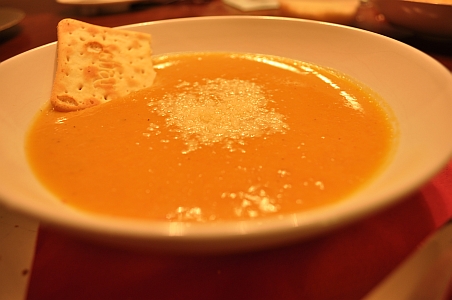 Butternut squash is one of those rare vegetables that is in season during the dark days of winter. It makes for a sunny puddle in your soup bowl and warms you all the way through. There are so many different directions to go with this soup and so many substitutions and additions based on your mood and how your kitchen is currently stocked. I keep it fairly simple, and try to keep the ingredient list short. Certainly you can substitute other winter squash varieties with a similar texture such as baby sugar pumpkins, acorn squash, etc. You can even take the opportunity to highlight a favorite exotic spice. This soup is a blank palette awaiting your creativity.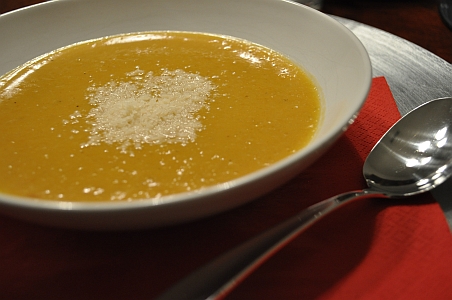 Butternut Squash Recipe
3 Tablespoons (50 g) butter (or other oil of your choice) 1 small onion, chopped fine 1 large butternut squash, chopped into half inch pieces 1 Quart (950 ml) chicken broth 1/2 cup (120 ml) heavy cream 1 teaspoon (5 g) brown sugar salt and pepper (preferable white pepper) to taste  
1. Melt butter in large sauce pan or Dutch oven over medium-low heat. Add onions and cook, until softened and translucent. Add chopped squash, 1 1/2 teaspoons salt, and chicken broth (add additional water if necessary to come up to cover your squash completely). Increase heat to medium high and bring to a boil. Simmer for about 30 minutes. 
2. Use stick blender (or batch process in a regular blender) or use potato masher to blend the squash into a smooth soup.
3. Stir in cream and brown sugar and continue heating over low heat until hot. Add salt and pepper to taste. Serve immediately.