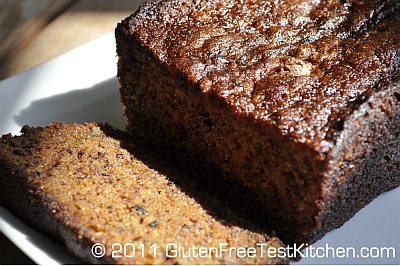 You may have noticed that I have been off the air for a while. I ran into some technical difficulties, but after considerable effort, I am back online, a bit wiser about the workings of website software, and a much happier camper to be sure. Perhaps some comforting banana bread is in order.
Frankly, developing this recipe took a lot of work. My goal was to recreate one of my husband's favorite taste memories and not my own. He has vivid memories of a moist banana bread sweet with plenty of nuts and bananas, which was sold at the health food store he worked at during college. Twice a week, the bakers would arrive early with cases of the bread still warm. He would always set aside a loaf, because they would sell out fast. That was before he was diagnosed, of course.
"Next time, make it a little moister (or sweeter or buttery…)" he would say to me. Finally, after numerous trials, he said, "That's it!" So, in addition to this gluten free banana bread, I am afraid that I have created a foodie!
It's so good to be back. I've missed you.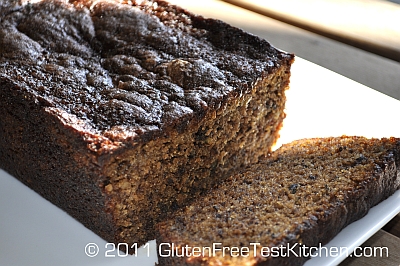 Homemade Banana Nut Bread
Ingredients:
2 ¼ cups / 340g / 11 ¾ ounces  Jean Ann's GF Multigrain Flour Blend (see recipe below) or other rice flour blend 1/3 cup / 36g / 1 ¼ ounces  ground flax seed 2 tsp xanthan gum 1 teaspoon salt 2 teaspoons baking soda 1 tsp baking powder 1 tsp allspice or cinnamon (optional) 1 cup / 100g / 3 ½ ounces chopped pecans/walnuts (optional) 4 large eggs 1 cup / 226g / 8 ounces vegetable oil or melted butter 1 cup / 200g / 7 ounces  white sugar 1 cup/ 220g / 7 ¾ ounces  brown sugar, packed 2 tsp vanilla 2 cups / 450g / 16 ounces  mashed overripe bananas (5-6 bananas)
Directions:
Preheat the oven to 350 degrees F (175 degrees C).
Grease and flour two 9×5 inch loaf pans or grease one bundt pan.
Measure the flour, flax seed, xanthan gum, salt, baking soda, baking powder, spice, and nuts into a large bowl.
In a separate bowl, whisk eggs and slowly add vegetable oil or melted butter to emulsify.
To wet ingredients, add sugars and vanilla and beat until smooth.
Add mashed bananas to wet ingredients and stir to combine.
Add dry ingredients gradually into wet ingredients and stir until just blended.
Divide the batter evenly between the two loaf pans or into 1 bundt pan.
Bake for 50 minutes to 1 hour, until a knife inserted into the crown of the loaf comes out with barely moist crumbs or until internal temperature reaches 210F (99C).
Let the loaves cool in the pan(s) for at least 15 minutes, then turn out onto a cooling rack, and cool completely.
Jean Ann's GF Multigrain Flour Blend
3/4 cup brown rice flour 3/4 cup white rice flour 1 cup oat flour 3/4 cup potato starch 1/4 cup tapioca starch/flour 1/2 cup millet flour 1/2 cup amaranth or quinoa flour
Mix well and store in refridgerator or freezer.